Stud Biography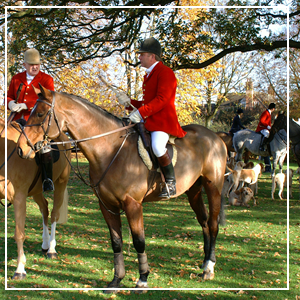 Here at Cowling Hill Farm we are a relatively young stud but through research and years of competing and watching horses at all levels and in all disciplines, we have been striving to produce horses for soundness, ability and durability but more importantly with a temperament that is ready to give their best in whatever field suits.
Through competing many horses in all disciplines, I soon realised that although soundness and ability and in many spheres, looks are very important, the main thing that limits all horses is their temperament. Having ridden many mares through my younger years and some brilliant ones at that, invariably it was a failing temperament that was the brick wall that you eventually came up against.
Having watched intently the successes of the Welton horses and Sam Barr's careful breeding programmes, and seen also the exceptional temperament and durability of the Ben Faerie horses that Diana Scott was producing at Brendon Hill. I noted very early on that these lines were not to be missed.
Through years of competing I came across several horses from these lines and would haven given anything to ride them but unfortunately, at that time, could never afford them, it was then that I bought a young two year old from Ken Horner at the Highmoor Stud. This filly was different! She had an uncanny ability to 'understand' a 'Chocolate box' look and an amazing jump, invariably clearing the top of the wings as a warm up fence. Ken had shown her as a foal and yearling and I believe she had won many times and even taken championships, it was only after a unfortunate accident when she took a high overreach after very few outings eventing and cut through a large percentage of her tendon that she was to have a long time off at rest.
This was the start of our stud as with the Highmoor lines that go back to some very impressive showjumpers such as Channel Five, Carl Fuller's 'Cock O' the North' horse. And Sanyo Video (formerly Highmoor Summertime) competed by Harvey and Robert Smith. Winning the Cock O' the North and the Hickstead Derby and many other competitions.  We also have soundness with Dixi who was never lame after a staggering 86 runs who then retired to stud with Max Abram at Busk Hill.
Annie, ( Highmoor Royal Dawn ) went to stud in Somerset to Hot Rumour, a son of the great Ben Faerie and produced a colt, Archie (Away With The Faeries ) he was produced slowly and after going through some life changing upheavals at that time I never had the time to do him justice through competitions but straight away I noticed that we had something there, his laid back temperament came straight from his father's line, he had his mothers intelligence, he had both his parent's looks with strong limbs and good bone, but mostly was his ability at cross country free schooling where he could be in any field at any time and was a devil of a job finding him when bringing him in.
Realising that he had ability we pushed on with his breaking and he was very soon learning and jumping like his mother but with a brilliant temperament to work with.
We tried him on a Java Tiger mare that I had ridden to Intermediate whose jumping ability was limitless but whose competition temperament let her down. This combination seemed to work. We had a horse with ample ability, good looks, soundness but most of all an exceptional temperament to work with. I had produced the horse that I always wanted, If only I was twenty again!